Welcome to Ferret Treasures Store!
We hope you enjoy your shopping experience at Ferret Treasures store. Your purchases help us continue our mission of helping the ferrets of the Ferret Association of Connecticut (FACT). All bedding is made on site and is "battle-tested" after more than 30 years of experience. We also do our best to "ferret-out" unique and one-of-a-kind ferret gifts and treasures for ferret enthusiasts at a variety of price points. Thorugh this area you can also purchase a FACT membership, select one of the ferrets from the FACT foster program or purchase items benefiting the Xavier Ferret Canine Distemper Fund. Happy shopping!
View our latest Ferret Treasures Sale Flyer!
4-5 Pc Giving Tree Super Soft Fleece Bedding Special
FTR-ShtrPk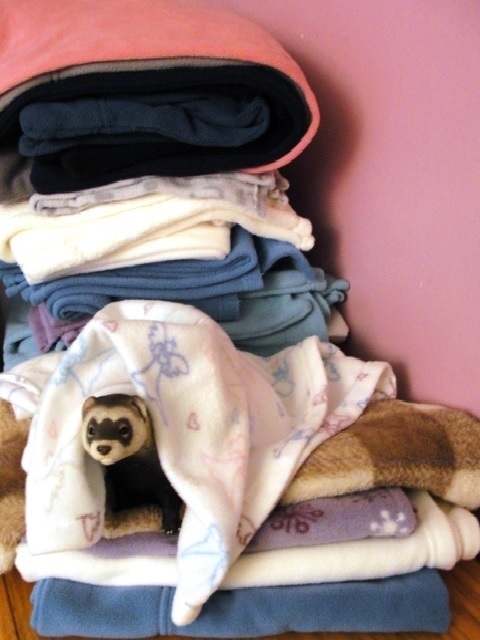 Soft, cozy & long-wearing fleece ferret bedding fashioned from a generous donation of quality goods from a high-end human bedding manufacturer. PERFECT for multiple ferret households. Send one to your local shelter—it benefits them and the FACT shelter.
This package was designed for the Ferret Giving Tree, but you can always buy some for yourself!
Included are 4-5 assorted pieces of bedding (4 only if we include a heavier fleece blanket). Blanket sizes differ, but most are 24 to 36 inches square/rectangles and will be a random assortment of blankets/pouches.

Colors range from white to navy and maroon. We'll select a variety.

If you'd like us to send direct to a shelter, just give us the address and we're happy to enclose a gift card with your name. Please provide address in your shipping notes if purchasing multiple items or email us separately with instructions.

Price includes US shipping.
Country of Manufacture:United States
Special Characteristics:Hand Made