Welcome to Ferret Treasures Store!
We hope you enjoy your shopping experience at Ferret Treasures store. Your purchases help us continue our mission of helping the ferrets of the Ferret Association of Connecticut (FACT). All bedding is made on site and is "battle-tested" after more than 30 years of experience. We also do our best to "ferret-out" unique and one-of-a-kind ferret gifts and treasures for ferret enthusiasts at a variety of price points. Thorugh this area you can also purchase a FACT membership, select one of the ferrets from the FACT foster program or purchase items benefiting the Xavier Ferret Canine Distemper Fund. Happy shopping!
View our latest Ferret Treasures Sale Flyer!
Aurora Baby Black Footed Ferret Plush
FAC-BabyFerret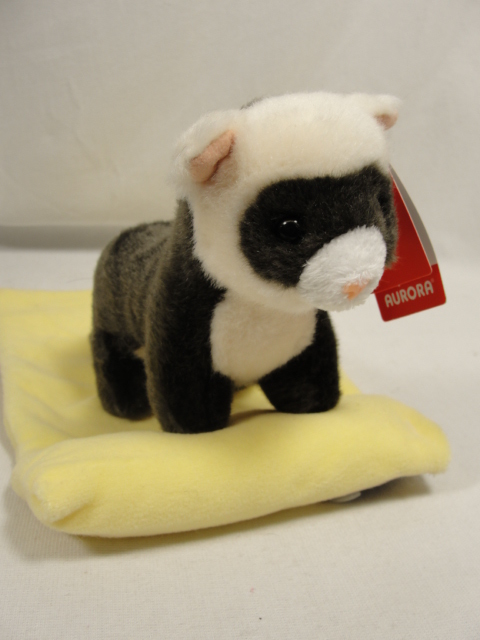 ON SALE! Formerly $11.00

Not sold elsewhere in the US! Imported from the England where they are no longer available. Aurora sold this as a black footed ferret. We think it looks exactly like a baby, sable domestic ferret kit.
Just shy of 6 inches long plus a 2 inc long tail and 4 inches high, he's adorable and super soft.
For a bit extra you can add a sleep pouch that fits him perfectly. Not shown, but he fits all the way inside.
Please note: These pouches are neither big enough nor safe enough for REAL ferrets. Indicate your first, second and third choice of colors from pink. blue or beige and we will do our best to meet your request. The pouches, originally made for beanie babies, are very limited. (So sorry, yellow is now out of stock! Please note: there is only 1 pink and 1 blue remaining of the pouches If sold out when you place your order, your purchase amount will be refunded. ).
Country of Manufacture:China
Pouch Option
No Pouch (0) Add Pink Pouch (2.5) Add Blue Pouch (2.5)