Welcome to Ferret Treasures Store!
We hope you enjoy your shopping experience at Ferret Treasures store. Your purchases help us continue our mission of helping the ferrets of the Ferret Association of Connecticut (FACT). All bedding is made on site and is "battle-tested" after more than 30 years of experience. We also do our best to "ferret-out" unique and one-of-a-kind ferret gifts and treasures for ferret enthusiasts at a variety of price points. Thorugh this area you can also purchase a FACT membership, select one of the ferrets from the FACT foster program or purchase items benefiting the Xavier Ferret Canine Distemper Fund. Happy shopping!
View our latest Ferret Treasures Sale Flyer!
Classic Black Footed Ferret Porcelain Figurine Little Critterz
FAC-LC612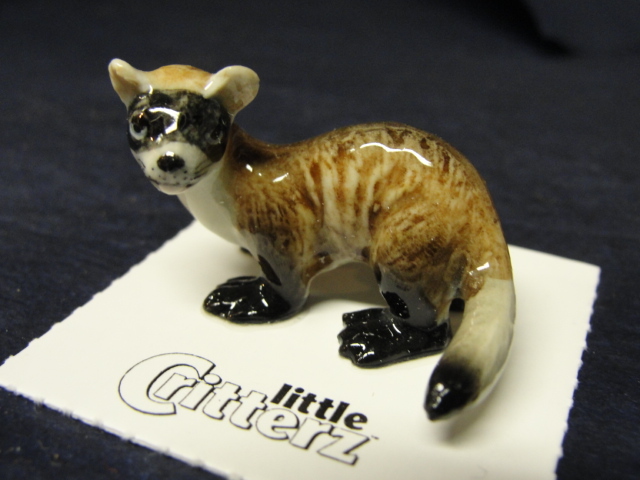 This adorable little porcelain is a lovely keepsake of our endanaged North Amercian Black Footed Ferret of the Western United States and Midwest Canada. What a wonderful gift for a wildlife conservationist or for anyone who loves ferrets or animals!
Handpainted in Thailand, it measures about 1 1/4" square. Comes in a little plastic cube for protection, and can gently be removed from the cardboard base.
Not a suitable toy for young children.
Country of Manufacture:Thailand
Special Characteristics:Handpainted Porcelain