Welcome to Ferret Treasures Store!
We hope you enjoy your shopping experience at Ferret Treasures store. Your purchases help us continue our mission of helping the ferrets of the Ferret Association of Connecticut (FACT). All bedding is made on site and is "battle-tested" after more than 30 years of experience. We also do our best to "ferret-out" unique and one-of-a-kind ferret gifts and treasures for ferret enthusiasts at a variety of price points. Thorugh this area you can also purchase a FACT membership, select one of the ferrets from the FACT foster program or purchase items benefiting the Xavier Ferret Canine Distemper Fund. Happy shopping!
View our latest Ferret Treasures Sale Flyer!
Enamel Ferret Jewelry Charm - Multiple Colors - FACT Exclusive
FAC-EnmlCharm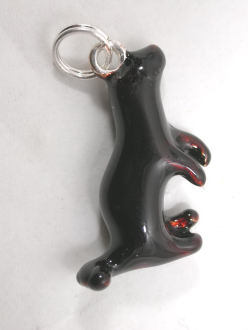 A Ferret Association of Connecticut exclusive treasure designed and produced to benefit FACT's shelter work.
Made in a silvertone metal alloy, a 3 dimenstional charm hand painted in enamel depicting a standing ferret. Comes in any of 4 different colors: Sable(dark brown), Chocolate (a sandy color), Silver (grey) or Albino-dark eyed white (DEW).
The enamel is carefully hand painted, not dipped, to allow the eye to show through and, on the darker models, to show some distinction in the color opacity giving them a toned look This charm has enough "weight" to it that it hangs nice and straight.
It measures appx. 3/4 inch tall from the top of the head to under the feet. It come with a jump ring and can be used for a charm bracelet, as a pendant, or used in pairs as earrings. These are must haves for the ferret lover!
Please note, these will not stand on their own as a mini-figurine.
Brand:
Ferret Association of Connecticut
Country of Manufacture:China
Special Characteristics:Hand Painted Enamel
Color Options
Albino/DEW (0) Chocolate (0) Sable (0) Silver (0) Set of 4 Charms - special 1 of each color (no choice) (13)
Confirm Color Option Choice