Welcome to Ferret Treasures Store!
We hope you enjoy your shopping experience at Ferret Treasures store. Your purchases help us continue our mission of helping the ferrets of the Ferret Association of Connecticut (FACT). All bedding is made on site and is "battle-tested" after more than 30 years of experience. We also do our best to "ferret-out" unique and one-of-a-kind ferret gifts and treasures for ferret enthusiasts at a variety of price points. Thorugh this area you can also purchase a FACT membership, select one of the ferrets from the FACT foster program or purchase items benefiting the Xavier Ferret Canine Distemper Fund. Happy shopping!
View our latest Ferret Treasures Sale Flyer!
Ferret Fur Sleeper Ball
FTR-FurBall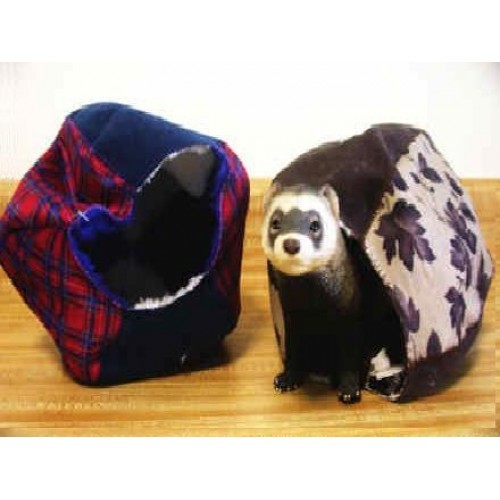 Ferrets LOVE these football-shaped sleeping spots! Lined with faux fur and covered in suedecloth.
Small fits up to 2 pound ferret; large for bigger ferrets. Extra large for those willing to share but we warn you - most ferrets want one of their very own! Colors/prints vary.
Small is approximately 8 inches long.
Large is about 11 inches long.
Extra large is only slightly longer than Large, but it is about 3 inches wider.
Machine wash & dry. Made in USA.
NOTE: Colors and patterns vary, so there is no color choice on these.
We've added a few pictures of three (may even be four, hard to say!), happy customers with one of our large furballs to show how well one, two, three or more will fit in one. Yes, this furball has been around through repeated washings. Can you just see "contentment" in those faces? Thanks for sharing Connie!
Country of Manufacture:U.S.A.
Special Characteristics:Hand Made
Size
Small - 8 inches long (0) Medium - 11 inches long (3) Large - 11 inches long - 3 inches wider (6)