Welcome to Ferret Treasures Store!
We hope you enjoy your shopping experience at Ferret Treasures store. Your purchases help us continue our mission of helping the ferrets of the Ferret Association of Connecticut (FACT). All bedding is made on site and is "battle-tested" after more than 30 years of experience. We also do our best to "ferret-out" unique and one-of-a-kind ferret gifts and treasures for ferret enthusiasts at a variety of price points. Thorugh this area you can also purchase a FACT membership, select one of the ferrets from the FACT foster program or purchase items benefiting the Xavier Ferret Canine Distemper Fund. Happy shopping!
View our latest Ferret Treasures Sale Flyer!
Ferret Luxury Sleep Sack
FTR-LuxSleep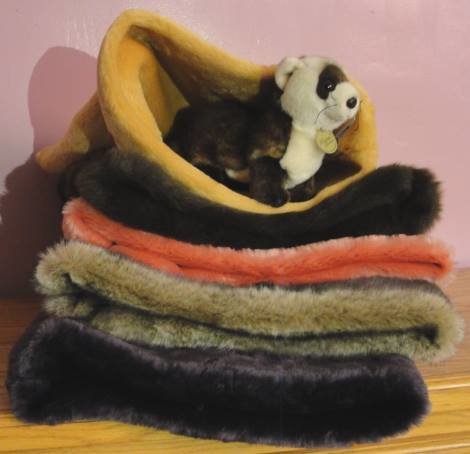 Our Luxury sleep sacks are made from lush faux fur and can last for years. Unfolded and used as a cage pad, they average 15" x 30". But fold one half inside and you have a 15" sq. pouch that's cozy, soft, and elegant.
While all are washable,some furs can singe if you use hot water/dry, so cool settings are strongly suggested. We keep the price low by using end cuts from high end human fur makers, so colors and fur length will vary. Please choose fromLight or Dark colors.
Country of Manufacture:U.S.A.
Special Characteristics:Hand Made
Color
Light Colored Fur (0) Dark Colored Fur (0)