Welcome to Ferret Treasures Store!
We hope you enjoy your shopping experience at Ferret Treasures store. Your purchases help us continue our mission of helping the ferrets of the Ferret Association of Connecticut (FACT). All bedding is made on site and is "battle-tested" after more than 30 years of experience. We also do our best to "ferret-out" unique and one-of-a-kind ferret gifts and treasures for ferret enthusiasts at a variety of price points. Thorugh this area you can also purchase a FACT membership, select one of the ferrets from the FACT foster program or purchase items benefiting the Xavier Ferret Canine Distemper Fund. Happy shopping!
View our latest Ferret Treasures Sale Flyer!
Ferret Luxury Suede Backed Hammock
FTR-LuxHamck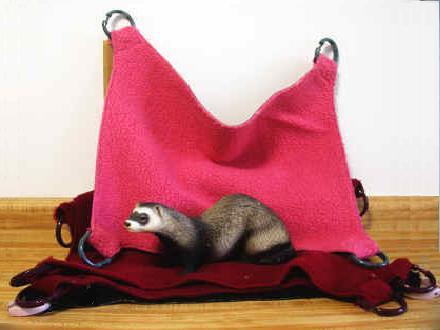 The sturdiest, plushest ferret hammocks anywhere!  The sleeping side is entirely covered with thick, soft faux fur.  The back is durable synthetic suedecloth.
Bonded together and sewn around the edges as reinforcement, they can last for years.  Each has coordinating plastic hooks that will take the weight of up to 5 ferrets at a time - and your ferrets WILL all pile on top!
You can wash the entire hammock - hooks, too.  A full 14" x 18" sleep area; with the hooks the size extends a few inches more to fit a full 18 by 22 inches.  Fits most cages including Ferret Nation.
Colors vary but are mostly medium to darker colors.  Available reverse side in either solid, geometic, or floral designs; fur coordinates with backing suedecloth material.
A Ferret Treasures exclusive. Made in USA.
Country of Manufacture:United States
Special Characteristics:Hand Made
Suede Pattern Choices
Soilid (0) Geometric (0) Floral (0)