Welcome to Ferret Treasures Store!
We hope you enjoy your shopping experience at Ferret Treasures store. Your purchases help us continue our mission of helping the ferrets of the Ferret Association of Connecticut (FACT). All bedding is made on site and is "battle-tested" after more than 30 years of experience. We also do our best to "ferret-out" unique and one-of-a-kind ferret gifts and treasures for ferret enthusiasts at a variety of price points. Thorugh this area you can also purchase a FACT membership, select one of the ferrets from the FACT foster program or purchase items benefiting the Xavier Ferret Canine Distemper Fund. Happy shopping!
View our latest Ferret Treasures Sale Flyer!
Ferret Snuggle Sleeper Blanket
FTR-SngBlank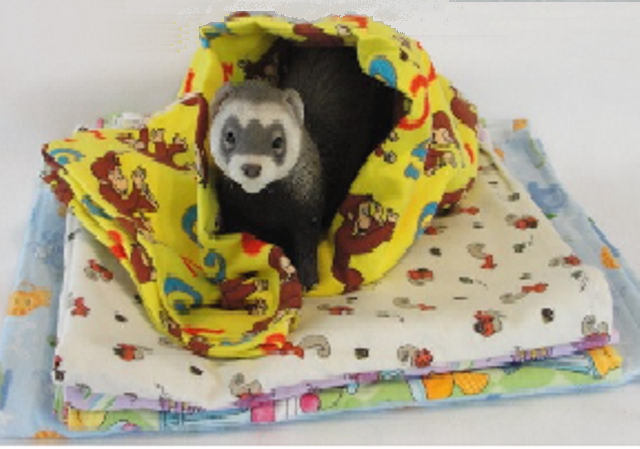 These are just right for those ferrets who like to completely wrap themselves up! Perfect to use inside a pouch or as a lightweight summer bedding item.
Made of an inviting cotton flannel blend. Machine wash & dry. Made in USA.
Colors and patterns vary; please specify light or dark pattern. If it's specifically for a boy or girl ferret, let us know and we'll pick something appropriate.
Country of Manufacture:United States
Special Characteristics:Hand Made
Color Choices
Generic Dark Color (0) Generic Light Color (0) Female Dark Color (0) Female Light Color (0) Male Dark Color (0) Male Light Color (0)