Welcome to Ferret Treasures Store!
We hope you enjoy your shopping experience at Ferret Treasures store. Your purchases help us continue our mission of helping the ferrets of the Ferret Association of Connecticut (FACT). All bedding is made on site and is "battle-tested" after more than 30 years of experience. We also do our best to "ferret-out" unique and one-of-a-kind ferret gifts and treasures for ferret enthusiasts at a variety of price points. Thorugh this area you can also purchase a FACT membership, select one of the ferrets from the FACT foster program or purchase items benefiting the Xavier Ferret Canine Distemper Fund. Happy shopping!
View our latest Ferret Treasures Sale Flyer!
Hansa Wild Ferret Polecat Plush
FAC-Hansa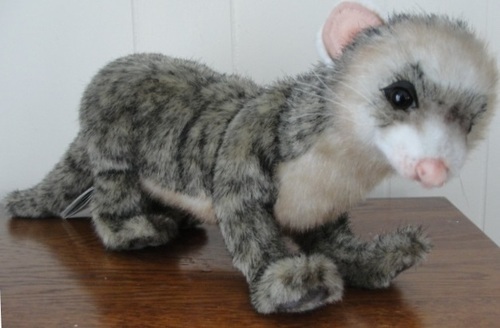 Hansa is well known for their exceptionally finely detailed plush toys. This ferret polecat is no exception.

He's just over 15 inches long (excluding his tail); about almost 18 inches with tail; and about 7 inches tall.
The legs and front of his body and head have wires, so his stance can be posed.
The ears have pink felt inserts. The nose is a delicately painted to show nostrils. There are actual eyelids over the top of the incredibly lovely eyes.
This was imported from England as retails for about $50 USD - and is part of Hansa's Portraits of Nature series.
:4806021953921
Country of Manufacture:Phillipines
Special Characteristics:Not suitable for children under 3 years