Welcome to Ferret Treasures Store!
We hope you enjoy your shopping experience at Ferret Treasures store. Your purchases help us continue our mission of helping the ferrets of the Ferret Association of Connecticut (FACT). All bedding is made on site and is "battle-tested" after more than 30 years of experience. We also do our best to "ferret-out" unique and one-of-a-kind ferret gifts and treasures for ferret enthusiasts at a variety of price points. Thorugh this area you can also purchase a FACT membership, select one of the ferrets from the FACT foster program or purchase items benefiting the Xavier Ferret Canine Distemper Fund. Happy shopping!
View our latest Ferret Treasures Sale Flyer!
Lap of Luxury Ferret Sleep Blanket
FTR-LuxBlank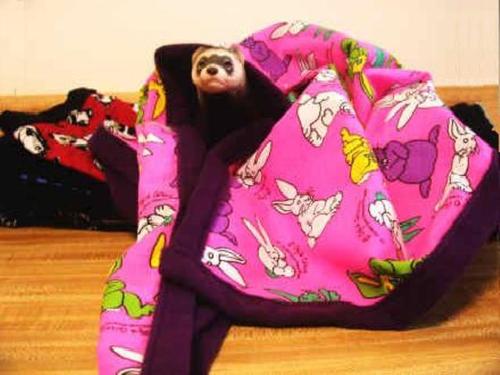 Colorful cotton prints are backed with soft sweatshirt fleece for a versatile ferret blanket perfect for chilly nights.
All fabric edges are sewn inside so no stray threads can catch your ferret's nails.  Some of these we use in the shelter are 5 years old and still going strong!
Sizes may vary but are at least 20 inches by 40 inches..  Available prints include Halloween, Christmas, Floral, and Cute Critters.
Made in USA.
Country of Manufacture:United States
Special Characteristics:Hand Made
Pattern Choice
Cute Critters (0) Floral (0) Christmas (0) Halloween (0)