Welcome to Ferret Treasures Store!
We hope you enjoy your shopping experience at Ferret Treasures store. Your purchases help us continue our mission of helping the ferrets of the Ferret Association of Connecticut (FACT). All bedding is made on site and is "battle-tested" after more than 30 years of experience. We also do our best to "ferret-out" unique and one-of-a-kind ferret gifts and treasures for ferret enthusiasts at a variety of price points. Thorugh this area you can also purchase a FACT membership, select one of the ferrets from the FACT foster program or purchase items benefiting the Xavier Ferret Canine Distemper Fund. Happy shopping!
View our latest Ferret Treasures Sale Flyer!
Silver Mitt Ferret Plush
FAC-SilvPlush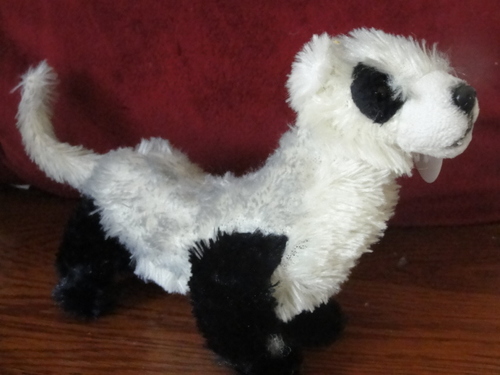 Sale! Formerly $10.00.

His fur is a bit thin; his nose a little fat; but if you've always wanted a SILVER plush ferret (especially one who's in the early stages of adrenal disease) then this is the guy for you!
He's about 11 inches long including his tail and about 6 inches tall. There is a wire in his tail, so you can bend it up into an elderly ferret's well know "radar" curl.
Country of Manufacture:China