Adoption Overview
The goal of the Ferret Association of Connecticut's adoption process is simple:
We aim to successfully place each ferret into a permanent, loving home.
The ferrets in the FACT shelter lost their home through no fault of their own. For someone new to ferrets, a ferret with an established personality is a wonderful way to become accustomed to a ferret's winning ways without the challenges a hyperactive baby ferret may pose. An adoptee would make a wonderful addition to a loving family.  For those with existing ferrets, adoption is a great way to add to your ferret family. Adoption through FACT has been designed to balance both your needs with the long-term welfare of the ferrets placed in our care.
Do you require an application?
FACT's adoption process requires an application and in-person interview for all prospective adopters, whether or not they have owned ferrets before. The interview is not a test. It is intended to talk about ferret care, the realities of what living with a ferret and their needs and see how they match adopters' expectations. Many of our animals have bounced through several homes before they arrive and need an owner committed to providing a permanent home.
How much do you charge for ferrets?
Our ferrets come with current canine distemper and rabies vaccinations (up to $250 value.) Most are also microchipped for permanent identification. Ferrets with a bonded buddy are only adopted together.
Adoption fees:
Ferret 6 months-1 year old: $175
Ferret pair 6 months-1 year old: $300
We rarely have ferrets under 6 months old; adoption fees for ferrets up to 5 months old are $200 for 1 and $350 for a pair.
Ferret between 1-3 years old: $150
Ferret pair between 1-3 years old: $250.
Ferret 3-4 years old microchipped: $100 Without microchip: $75
Ferret pair between 3-4 years old microchipped: $175  Without microchips: $150
Adoption fees for animals with behavior issues may be discounted. Subscribers to the Paw Printz newsletter and regular volunteers also receive a discount. Adoption fees are set at the discretion of the Executive Director.
Are the ferrets you adopt spayed and neutered? Are they descented?
Nearly all ferrets sold regionally originate in pet stores and are already altered and descented. FACT spays or neuters any unaltered ferrets before adoption. We will not descent for humane reasons.
Do they have their shots?
Yes . Ferrets have a current canine distemper and rabies vaccination.
Do you have baby ferrets?
While we may take in ferrets as young as several months, there are no significant populations of unaltered ferrets in Connecticut, so we do not have litters of baby ferrets.
Can you ship a ferret to me?
We cannot ship ferrets. If you live outside our area, please visit the Ferret Shelter Directory for a ferret shelter near you or visit Petfinder.com to find ferrets for adoption from other humane organizations.  You may also consider visiting sites for individuals to place their own pets such as rescueme.org or rehomeyourpet.com.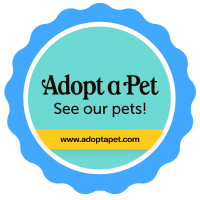 Click Adopt-A-Pet Badge Above and see some of our current adoptables
*  Note: Available adoptees constantly change.
How do I get started?
Please continue to the Adoption Process for more information and to obtain an Application.
Some Adoption Policies
Due to the risk of "end of class year" abandonment, we do not adopt to schools seeking a class pet. Teachers using their ferret for educational purposes are welcome to adopt as long as the ferret is based in their home and is primarily a personal pet. We do not place ferrets in nature centers or museums as working animals; our aim is to find homes for ferrets as family companions.
It is a general practice to hold new ferrets a minimum of two weeks in the shelter before making him/her available for adoption.
We aim for a stable, fiscally responsible home and ask adopters, to the best of their ability, provide a lifetime commitment to their new pet. If for any reason a FACT ferret must be relinquished, we require the animal be returned to us.
---
A word about Craigslist: Craigslist.com is commonly used by individual placing pets. However, since it lacks oversight, there are a number of scams. Animals may be advertised inaccurately or may have been obtained inexpensively from another ad then sold for profit. While you may be helping a ferret in need by obtaining one there, we urge caution and common sense when dealing with anyone on Craigslist. We especially suggest those new to ferret ownership adopt from a shelter or humane society in order to obtain good care info and support for their new pet.